At a single glance, the pictogram makes it easy to identify the weight and distribution of the load on the truck.
CLERAL'S Sentinel PS3 is the leader in wireless onboard weighing. In the palm of your hand, the PS3 displays the weight in real time within a radius of over 1000 meters (3200 feet) in line of sight, around the vehicle. Imagine the freedom of action. This is particularity useful in applications where load control is done outside the cab. In a flash, the truck pictogram reveals axle load distribution and total weight. The PS3 stores pictograms of most popular vehicle configurations.
Automatic recognition of the PS3 allows pairing of an unlimited number of semitrailers without re-calibration or manipulation. This feature directly benefits fleet operators. CLERAL onboard scales are the most accurate weighing systems on the market with a margin of error of less than 1%
CLERAL'S, no load cell, unique sensor technology is maintenance-free and can be fitted to most vehicles without modification. CLERAL systems work on all types of suspension or combination of suspensions and can be installed quickly an easily.
With its 12 channels, the PS3 allows you to instrument all vehicles coupled to multiple semi-trailers.
The print command can be given from inside or outside the vehicle. You can also transmit data using a wireless RS232 connection to an onboard computer.
Download file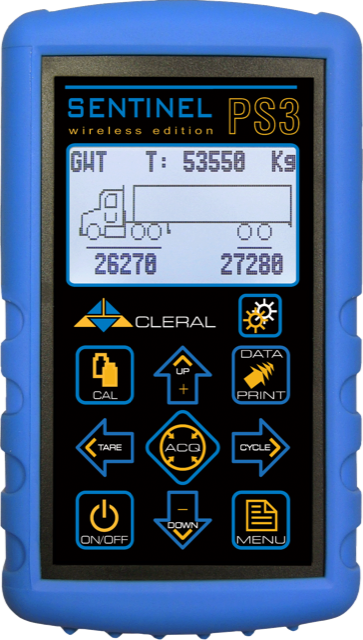 Avantages
Very competitive price
Margin of error less than 0.01
Installs on all suspensions
No Vehicle modifications
Installation is fast and simple
One time calibration and user-friendly
Simultaneous display of weights per channel and total
Small monitor (cm X cm X cm)
Unit of measure (Kilograms, Pounds and Tons)
Displays up to 12 channels
Virtual channel for steering, pusher or tag axle
Cargo weight displayed in gross or net